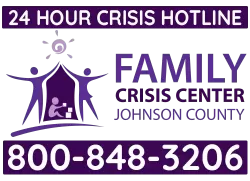 The mission of the Family Crisis Center of Johnson County is to be the expert resource and service provider in eliminating domestic and sexual violence in Johnson County, Texas. It is our belief that healthy relationships are based on respect, trust, support, honesty and accountability.
Healthy relationships reinforce our inherent equality as people and empower us to make nonviolent choices. We all have the choice and responsibility to learn and master the skills of healthy relationships.
Since 1983, we have operated as a non-profit domestic violence and sexual assault agency and we provide many services and programs for victims of domestic violence and sexual assault.

A Safe Place
We provide crisis intervention/advocacy/support services 24-hours a day during and after the immediate crisis of domestic or sexual violence. No appointment is necessary for immediate face-to-face crisis intervention and advocacy services.
Call the 24-hour hotline at 800-848-3206 or 817-641-2332 for more information. Family Crisis Center of Johnson County can:
Help remove you and your family from potentially dangerous situations
Provide you with an emergency shelter after escaping domestic violence or sexual assault
Provide hospital, legal, medical accompaniment and advocacy
Be with you throughout the process - we know that empowerment takes times and is a multi-stage process
Information and Referral Services
Provide access to community resources
Offer guidance concerning the options available to suit your specific needs
Prevention Education and Community Partnerships
Help you recognize abuse and violence in relationships
Provide the community the tools and expertise needed to end the cycle of violence
Engage community assistance to volunteer and help end domestic and sexual violence
Violence Intervention Programs
Help you face the implications of your abusive behavior
Help you learn the skills you need to make non-violent choices
You can help support the mission and vision of the Family Crisis Center through the following avenues:
Volunteering
Donations & Gifts
Calendar of Events