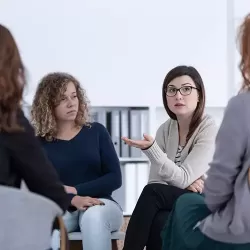 The Family Crisis Center of Johnson County provides FREE therapeutic counseling, individual, family and group, for victims. The Family Crisis Center of Johnson County employs licensed therapists who provide individual as well as group counseling to victims of family violence and sexual assault.
A women's issues group, domestic violence education, and parenting group are offered continually.
The center has a program director, children's services coordinator, case manager, legal advocate, volunteer coordinator and other positions as well. The center also maintains a 24-hour crisis helpline. All services are provided free of charge
The therapists we have on staff have spent countless hours working with victims of domestic violence and sexual assault. The Family Crisis Center of Johnson County is a place where victims can share their stories and provide support for one another in support groups as well as therapy. 
Domestic Violence Support Groups
Every Wednesday Morning for Women Only: 9:00 am to 10:30 am (5 week course)
Domestic Violence Men Only: Individual basis
Topics include: Identifying DV-Identifying why women stay with their abuser-analyzing the part co-dependence plays in such relationships-learning what to expect from healthy relationships-learning how to develop a healthy relationship.
Parenting Support and Education Group
Every Thursday Morning:  10:30 am to 12:00 pm (7 week course)
Every Thursday Night:  6:00 pm to 7:30 pm  Love & Logic Curriculum (6 week course)
Topics include: Problem solving, conflict resolution, anger management-effective communication, emotional intelligence, listening skills-child development needs, unconditional love, ideal development assets, fostering optimism, traits of healthy play-developing family values & mission statement, using this as foundation for discipline-behavior modification contracts-coping with sibling rivalry-raising resilient children, skills enhancement, family meetings.
TO ACCESS OUTREACH SERVICES, CLIENTS CAN CALL 817-558-7171 MON-FRI, 8:00 AM - 5:00 PM, AND ASK FOR INTAKE APPOINTMENT.
TO ACCESS SHELTER SERVICES, CLIENTS CAN CALL 817-641-2332, 24-HOURS A DAY, 7 DAYS A WEEK.