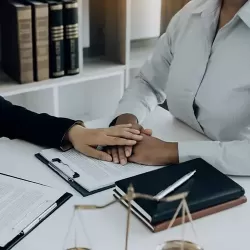 The Family Crisis Center of Johnson County provides legal accompaniment and advocacy for clients who have pending court cases. We work with the Johnson County Attorney's Office to assist victims in obtaining protective orders. We want to secure a safer future for you and your family. 
Our team of legal experts has experience working with all types of cases and can guide you through the legal hoops and stand by your side for the duration of the process. We will always advocate for your legal rights against domestic violence and sexual assault. 
Legal Advocacy
Our goal at the Family Crisis Center of Johnson County is to get you the resources you need to make sure the offender in your case is held accountable, but first and foremost that you and your loved ones stay safe. This is why our team is here to assist you with gaining protective orders or pursuing legal action against your abuser. 
The Family Crisis Center of Johnson County has a network of professionals who are ready and willing to assist you with your legal questions, your paperwork, and  even stand by your side as you move through the court system.
Before, during and after your legal proceedings, our experts will explain every ruling and judgement, so that you are completely aware and filled in about what is happening with your case. 
Through our legal advocacy, we ensure that victims have access to competent and experienced attorneys and equal access to justice in the legal system. Our legal assistance and advocacy is always free to victims and survivors.