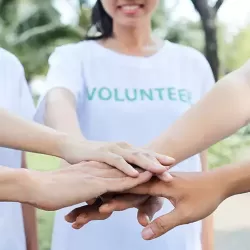 At the Family Crisis Center of Johnson County in Johnson County, Texas, every volunteer is a vital part of our team. Our goal is to find the right opportunity for every volunteer. There are many ways you can be involved with us and contribute to a meaningful cause.
There are many reasons to volunteer at Family Crisis Center - because you are concerned about domestic violence, sexual assaults, and human trafficking, because you want to meet and work with people who share your vision, or because you have a talent you can share to help make a difference for people in need in your community.
The Family Crisis Center of Johnson County appreciates all of our volunteers, no matter what role you choose at our facility.
How to Become a Volunteer With Us
At the Family Crisis Center of Johnson County, we value each and every volunteer. We truly could not run The Family Crisis Center of Johnson County without you. In order to become a volunteer with us, you must follow our steps to begin your volunteering journey. 
Complete the appropriate volunteer application
Applications can be obtained by contacting the Volunteer Coordinator at (817) 558-7171 or info@familycrisisjc.org
All crisis center employees and volunteers are subject to a criminal background checks
Once your application has been processed, our Volunteer Coordinator will contact you about upcoming orientations, and you'll be on your way to working with staff and other volunteers who are assisting victims of family violence and sexual assault transition to survivors.
Volunteer Orientation
The goal of orientation is to teach potential volunteers about the agency's structure, the programs and services offered, and to help them determine what volunteer opportunity best fits their schedule and interests. Once you have turned in your completed volunteer application, Amy will contact you about upcoming Orientation dates.
We have volunteer opportunities for every qualified and dedicated individual and for a variety of schedules, and we are always happy to have individuals dedicate their free time to our organization. 
Volunteer Training
Volunteer training is available to any potential volunteer who has completed an application and attended orientation. Training is specific to the duties you have requested or worked out with the Volunteer Coordinator. No volunteer is asked to perform a task that they do not feel qualified for, and training will be provided for each position available at The Family Crisis Center of Johnson County.